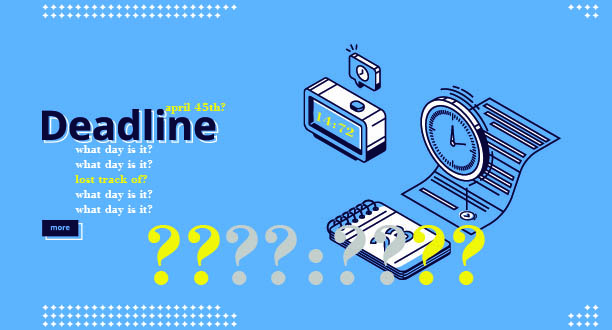 I mean really, are you kidding me? I think I lost track of the days during this week. Is it all a blur for you too? Are you staying on task? If I didn't have my niece over to keep me company, I wouldn't really pay attention. It's been over 30 days. I have stayed busy bringing some of Philadelphia's small business owners from their physical store to having their website. Building websites take a lot of time, focus and can be a brand new world within its own. And I will say – I love creating them! However, I am losing track of the days. I want to apologize for not hosting our "Hangout Couch Chats" this week but we will go back full swing next week. What will I do to make sure to stay knowledge on the week day? I went old school – and setup a big 16×20″ inch calendar! Visual – not leaving it all to virtual reminders! Be human, for once – right! And wash your hands for 20 seconds – while you're at it. Got it! Take a quick few moments to have a "Virtour" (Virtual Tour – I made that up all by myself while social distancing – giggle) –
Dali Theatre Museum Virtour https://bit.ly/dali-museum-virtour­ and check in with my family and friends – daily.
I'm sure this CoVID19 and lockin is unique for us all but please, friends stay encouraged. Be grateful for this time, at home, rather than worry on what you thought you could be doing. The old saying is "could of, should of, would of" has come back into full swing so just make the "best of" and focus on maintaining what you can. Remember to check on your family and friends and love ones. Don't take on the mindset believing he/she is alright. This is not the time to leave anything to "chance" nor to think "no news is good news." Everyone doesn't handle ordeals the same, some individuals regress or drive themselves into work to avoid – but what if work is not available? Your friend and cousin who has had a successful 20 year career isn't feeling the same. Your niece who expected to finish high school and finally attend her senior prom; wear heels and hang out most of the evening – feels uncomfortable today. Being in the same place, day after day – is making everything swirl all together into one full long day rather than 7 days in one full week. Check on your friends who work at the grocery store, or the gas station, the environmental services workers, and postal services deliverers as well. They are going over and beyond as well – they are just as important as our healthcare providers. Tell them thank you. No matter what day it is – add two task to your week – connect with your school aged family members and tell a service worker they are appreciated. Oh, there's a third task – check your calendar for the week day!
Be like the ole Great Al Green, grab a "wicker chair" and a offer some "Love and Happiness:" Or just give your friends and family a call to say "do you know what day it is?"
RESOURCES:
Mortgage Relieve during COVID19: https://www.consumerfinance.gov/about-us/blog/guide-coronavirus-mortgage-relief-options/­
Philadelphia School District begins Digital Remote Learning Monday April 20, 2020 https://www.philasd.org/coronavirus/chromebooks/­
Visit PA.Gov for details in Pennsylvania regarding COVID19 updates or visit https://www.health.pa.gov/topics/disease/coronavirus/Pages/Coronavirus.aspx­
All 67 counties in Pennsylvania are under Stay at Home Order through April 30, 2020
Visit covid19.nj.gov oo nj.gov/health for details in New Jersey
Visit https://coronavirus.health.ny.gov/home­ for details in New York
NYS on PAUSE Extended until May 15, 2020
Stay encouraged,
Maryam!
Like, Follow and Subscribe: