YOU DESERVE IT. BEAUTIFUL AND ELEGANT ART shows

NFL's GOOD TROUBLE: COLIN KAEPERNICK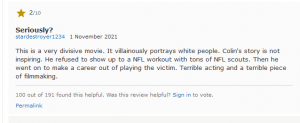 "I am not going to stand up to show pride in a flag for a country that oppresses black people and people of color. To me, this is bigger than football, and it would be selfish on my part to look the other way. There are bodies in the street and people getting paid leave and getting away with murder," Kaepernick stated After the third protest on August 26, 2016. Here we are in 2021, years after the protest had been recognized by the press and now Kaepernick is sharing his story in another way – on the Netflix platform. The hit Netflix series "Colin, in Black and White," debuted on October 29, 2021. The series came with some mixed reviews, as expected with the topic being on race which is commonly viewed as a "controversial" topic.  I, actually, enjoyed the series "Colin, in Black and White." As a bi-racial individual some of the statements said to Colin, I've been told as well, so I "get it," and can relate. Lite SPOILER ALERT: There's one scene which discusses hair texture – the young lady who is braiding teen Colin's hair made a reference stating his hair texture is "funny" or something of the sort, as her reason why she didn't do his hairstyle properly. I've been told the exact same statement, more or less. The comment was made to me around this pandemic so if I'm still hearing this, there is a world of mixed chicks and mixed men, being told the same crazy slogan. Beyond connecting through hair, I wondered more on Colin's stats – will he play any time soon. Then I saw a review which really gave insight on Colin's career stats. I said wow. Let me lay out the story – sketch show style.
Colin Kaepernick and former 49ers safety Eric Reid — who joined Kaepernick in kneeling or taking the knee back during — filed grievances against the league, claiming their protests had resulted in owners denying them both work on the football field. Reid's contract with San Francisco expired after the 2017 season, but he eventually found work with the Panthers, signing late in September of 2018, initially a one year deal which turned into a 3 year contract. Somehow the contract was cut short from the three year deal – what is in this "agreement?" On March 18, 2020, Reid was released by the Panthers. Reid was offered an opportunity to reunite with the Washington Redskins. But During October 2020, E. Reid declined an offer to sign for the Washington Football Team 's. From my research, it looks like E. Reid is a free agent, currently not playing as a safety anywhere in the NFL. If I'm wrong, leave details in the comment section. Let me know if Eric Reid has been playing this 2021 and leave his stats for  me.
In comparison to Eric Reid, who since 2016 has played with two teams, along with turning down a position, Kaepernick has remained unemployed – with no offers on the table. 
Kaepernick and Reid both have reached confidential settlements with the league and both dropped their grievances but only one has been given the chance to play. Reid declined his offer, so in my view Reid could be working today.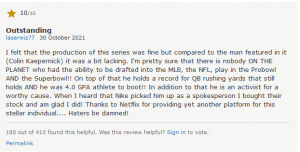 But what happened with Colin? Is he deemed the poster boy for the NFL's Good Trouble? From what I've read, the league offered for reps the league to come from each team to see Colin do his thing but 30 minutes prior, Colin altered the plan. Requiring those participating reps to come to a different location. I'm all for the mantra "if you don't like the terms, make your own" but I think giving more time than 30 minutes is more professional. Could you imagine plans changing in 30 minutes – if you're really into your professionalism – you're almost to the agreed location. Needless to say, only around 7-9 reps came to the new location. One source expressed that Colin has his same fast arm, and he sees no reason why Colin shouldn't be on the field. Either way, from 2017 through now, walking into 2022, Colin still has no "home team." But what does Colin have instead? During 2020, the flood gates open to recognizing how horrible systemic racism, and police brutality had been from the widely broadcast of the George Floyd killing. From this the NFL has committed to pledging $250 Million to combat systemic racism and historic injustices faced by black people, while also showing a willingness to work directly with Kaepernick on tackling those issues.
NFL Commissioner Roger Goodell, apologized for not accepting the complaints of NFL players in the past, in a video, which left many stunned. Goodell encourages teammates to speak-out. The $250 Million will be  used over a 10 year span consonstrating on the league working with players to identify and work with programs that address criminal justice reform, police reform and economic and educational advancement for African Americans.
Social justice grants from the NFL have been provide to  Alabama Appleseed Center for Law and Justice,  Anti-Recidivism Coalition, the National Urban League, Big Brothers Big Sisters of America and the United Negro College Fund.

#footballseason #footballplayer #footballgame #nike #netflix #goodtrouble #football #soccer #nfl #sports #futbol #fifa #sport #messi #premierleague #championsleague
POLICE SHOOTING STATS:
Reading the Washington Post I've found the following details, which is shocking – I'll be quoting some details from the Washington Post's Police Shooting Database article.
"In 2015, The Washington Post began to log every fatal shooting by an on-duty police officer in the United States. In that time there have been more than 5,000 such shootings recorded by The Post.
This is because reporting by police departments is voluntary and many departments fail to do so.

States with the highest rates of shootings are New Mexico, Alaska and Oklahoma.

Most victims are male.

In fatal shootings by police, 1 in 5 officers' names go undisclosed
Despite the unpredictable events that lead to fatal shootings, police nationwide have shot and killed almost the same number of people annually — nearly 1,000 — since The Post began its project. Probability theory may offer an explanation."
 – The Washington Post
DAM, It's Over - For Now...
As we embark on our 8th year in business, I celebrate you. The many of you have cheered my company on, some loudly, some in passing, some in writing and some in whispers. Either way, without your cheers, hoorays and praise – what would Maryam's Mark & Co, LLC be today. Many business owners have been told "no, don't do it," "why you want to do that?" "ain't no money in that!" "watch, that's not going to work!," "haha, you want a business, who do you think you are?," "you still want to do that business? Girl/boy stop – please, go get a job!" The most interested thing of all of these comments were those many jobs began as someone's dream idea, someone's vision, someone's business that grew so well, we have conditioned ourselves that a job isn't a business. It's a job! In our view, a business is a job offered, created and built. It's not this slogan candidly stated "JOB = Just of Broke." That's nonsense, and I apologize if you're offended because that isn't my intention. Let's change our mantra to something spectacular, professional, positive. Throw away slogan "just over broke" today. Replace it with JOB equates to Just Opening Business(es)! Over the last eight years I've felt as if I've stated to just open business.
Every day is a new opportunity to challenge our yesterday's goals, our yesterday's revenue, our yesterday's content, creations, etc in order to ensure brighter tomorrows. At Maryam's Mark, each year we challenge our achievements so we can exceed our own and our customers' expectations. We want to "beat" us. We need to out do last years numbers, just as any organization would, because we are "just opening business" with our goal to stay open for your business. We hope to continue working within the B2B sector, while growing our fine arts on canvas and clothe products. I am excited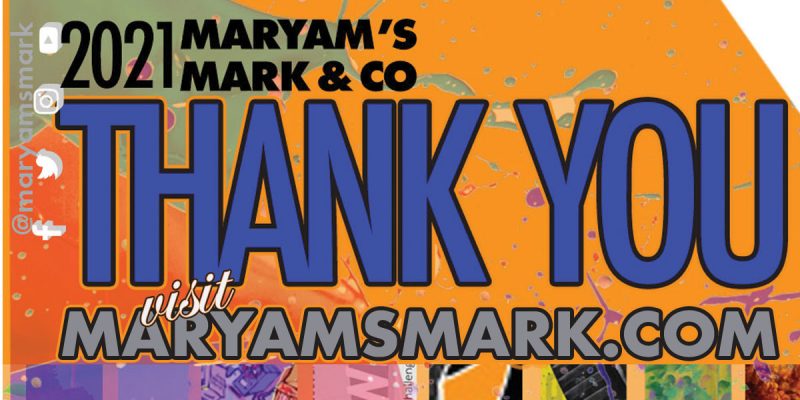 to have embarked on an eight year in business, growing from freelance into a corporation isn't easy – we have our challenging days – trust. But what it is and will continue to be is satisfying, exciting and it's simply enjoyable.
For six out of eight years we have held our Annual Digital Arts and Media (DAM) Showcase in collaboration with CFEVA's Philadelphia Open Studio Tours. On Sunday, October 24, 2021 between 12 – 6 pm est, many guest were welcomed to view our work, discuss our artistic and marketing process over light refreshments at the Queen Memorial Work Studios in South Philadelphia. We are exultant to have several guest and family members attend our In-Person exhibit. Maryam's Mark and Co, LLC offers thank you to everyone who attended our exhibit, as well as everyone who has been continuously supporting our growing digital marketing and arts organization.
View Our Work
2021 Customer Websites
http://paama.us/
https://perfectchoicehomecare.com/
http://perfectfotoinc.com/
http://peacebuild360.com/
https://www.thephillypix.com/
Customer Email Marketing Campaigns:
New Cub E-Sports 1 https://conta.cc/2XQJRoh
New Cub E-Sports 2 & More https://conta.cc/3DKFKL1
G2E Vegas & Cub E-Sports 3 https://conta.cc/3zM6p6R
Need Email Marketing?
Sign Up: https://bit.ly/email-plans-mmark
Services:
Website Design, Email Marketing & Management, Graphic Design ie; Publication Design
Maryam's Mark and Company will provide just that…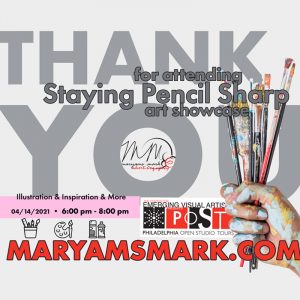 Maryam's Mark & Co technologist are working diligently to edit the taping of the "Staying Pencil Sharp April 2021 Art Showcase." Isa, William and I thank you for your patience and continued support as we gear to upload the show taping soon.
Watch some of Part 1 and Part 2 on our Facebook Page. Like and Follow

gRACIOUS GRATITUDE FOR YOUR COMPANY
Thankful…
I search for words to express, Give thanks…
I search for sentiment
Give gratitude…
I look for appreciation
Give admiration…
I turn for offering
Accept assistance.
I look no more.
Search unnecessary.
Found without seek,
No need to reach,
Handed graciously to thee and it has not been easy however there is plenty of ease.
I look forward,
I move up steadily,
I return appreciative.
I look forward,
I move slowly…
No need to rush little 'ole me,
Many opportunities ready for us all to see…
Creating together, you, us, we,
Magnificently.
I search for the words to express but my artistic and marketing talents speaks to you in place of the voice you want to hear from me…
I give thanks
Gracious Gratitude for all your company
For your bravery to create and attend show after show with the low voiced arts marketing engine who's talent only egos so damn loudly…
I look no more, just forward.
We move up together… steadily
Together, come along this pencil sharp technical journey with me, continuously!
Thankful for attendance at the Stay the Pencil Art Showcase with Maryam's Mark and Company LLC.
Author: Maryam Muhammad
Maryam's Mark & Co is working diligently to edit the taping of the Staying Pencil Sharp April 2021 Art Showcase. Isa and I thank you for your patience and continued support as we gear to upload the show soon. Watch some of Part 1 on our Facebook Page.
MORE ART PIECES LOADING...
TUNE IN TO THE MM&CO SKETCH SHOW
Like, Follow and Subscribe: