YOU DESERVE IT. BEAUTIFUL AND ELEGANT ART
Maryam's Mark and Company will provide just that…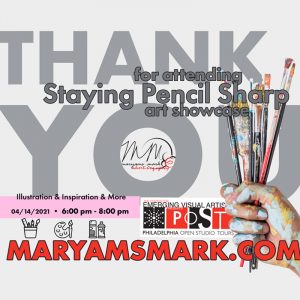 Maryam's Mark & Co technologist are working diligently to edit the taping of the "Staying Pencil Sharp April 2021 Art Showcase." Isa, William and I thank you for your patience and continued support as we gear to upload the show taping soon.
Watch some of Part 1 and Part 2 on our Facebook Page. Like and Follow

gRACIOUS GRATITUDE FOR YOUR COMPANY
Thankful…
I search for words to express, Give thanks…
I search for sentiment
Give gratitude…
I look for appreciation
Give admiration…
I turn for offering
Accept assistance.
I look no more.
Search unnecessary.
Found without seek,
No need to reach,
Handed graciously to thee and it has not been easy however there is plenty of ease.
I look forward,
I move up steadily,
I return appreciative.
I look forward,
I move slowly…
No need to rush little 'ole me,
Many opportunities ready for us all to see…
Creating together, you, us, we,
Magnificently.
I search for the words to express but my artistic and marketing talents speaks to you in place of the voice you want to hear from me…
I give thanks
Gracious Gratitude for all your company
For your bravery to create and attend show after show with the low voiced arts marketing engine who's talent only egos so damn loudly…
I look no more, just forward.
We move up together… steadily
Together, come along this pencil sharp technical journey with me, continuously!
Thankful for attendance at the Stay the Pencil Art Showcase with Maryam's Mark and Company LLC.
Author: Maryam Muhammad
Maryam's Mark & Co is working diligently to edit the taping of the Staying Pencil Sharp April 2021 Art Showcase. Isa and I thank you for your patience and continued support as we gear to upload the show soon. Watch some of Part 1 on our Facebook Page.
MORE ART PIECES LOADING...
TUNE IN TO THE MM&CO SKETCH SHOW
Like, Follow and Subscribe: