PHL Community Can Initiative
Trash Can Lids are Urban Murals creating Contemporary Art Installations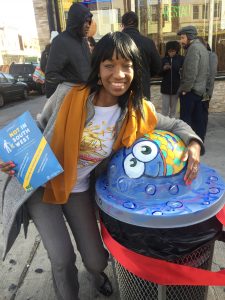 Alongside lead artist Rhonda Davis, B.A.; B.S. a team came together to paint trash cans lids as a contribution to creating a beautiful litter free city – one area at a time. Several community organizations connected together with the City of Philadelphia over a year ago with a goal to tackle the litter in both SouthWest Philadelphia area and Juanita Park area. The litter in both areas have been out of control, creating an unattractive dumping site. Residents blame the lack of trash cans, the lake of assistance and direction when trying to get rid of garbage. Many of families live together, generationally now, after the big recession – with that trash grows per household in doubles. Some of the local business organizations gain more foot traffic due to the larger community bases, which is great for them. But is it great for the surrounding environment who lack in disposal waste plans? Not really. So what needs to be done to tackle such a high litter ordeal besides creating a plan to cure these issues, right? The Community Cans project using wire mesh litter basket, or equivalent metal container of at least 24 gallons but not larger than 32 gallons equipped with a metal lid that has an opening to deposit trash. The artist were to submit into a contest to be selected, writing a summary of their community involvement, the artist must live in the area of SouthWest and Juniata Park area. The winning artist would win a stipend once the projects were completed. The trash can lids would be painted by guess who? The leading artist selected were Jay Coreano and Rhonda Davis; later added were Trudy Jordan and your very own – Maryam the Design Diva. These artist would be using the trash can lids as "urban murals" – their canvas to create contemporary art installations.
Artists – Jay Coreano, Rhonda Davis, Trudy Jordan & Maryam Muhammad (Maryam's Mark & Co, LLC) along with students from Tilden Middle School and Juniata, Ferko Park.
Partner Organizations:

Coordinating Partners – Partnership for the Delaware Estuary, Philadelphia Water Department, Philadelphia Zero Waste and Litter Cabinet, US EPA Region 3, Mural Arts
Local Partners – Tookany Tacony Frankford Watershed Partnership, Southwest CDC, African Cultural Alliance of North America

"Community Cans is a public private partnership program where the City of Philadelphia partners with community organizations and businesses to support community responsibility for clean business districts and commercial areas in Philadelphia neighborhoods. After researching how public trash can placement affects litter rates and surveying litter conditions throughout Philadelphia through the City-wide Litter Index, we're identifying ways to strategically increase trash can coverage in Philadelphia's public right-of-way with the goal of reducing litter and illegal dumping."
(Source: https://cleanphl.org/communitycans/ )
OPINION:
Fox 29 attended the Trash Free Waters & Philadelphia Community Cans Installation Event at LeMandique Restaurant at 6620 Woodland Avenue. The event was meant to host a Ribbon cutting mini ceremony, Brief remarks from Southwest CDC and ACANA and photo opportunity with the press. During Fox 29's interview with reporter Alex George went left field – and way out of the ballpark. The interview was mainly held in front of another restaurant, discussing the trash can, taxes, pay with a total different crowd. The focus of a clean, litter free environment was barely mentioned, neither was the work of the artist, the students school locations or the partners – who worked to make this initiative come to life. Although reporter Alex George did ask to interview me, Maryam, regarding my "beautiful artwork," the interview wasn't shown, nor was the interview shown with Musa, from ACANA. The mention of the school where those "middle schoolers" attended wasn't stated leaving residents of the Southwest area to say "she out of pocket for that," referring to Alex George. Residents also felt it was negligence of the news to not state this was in part a contest for the artist.
We, the community members of Southwest Philadelphia are upset and rather disappointed over something meant to be great for our area has been given a darkness by the media! Who could possibly become upset of goals to create cleanliness? No one wants to live in filth, therefore we are making the correct steps to brighten our community. One painted can canvas at a time! Stay positive with us by growing our goals, leading us towards better possibilities – creating opportunities to make sure our intitivies work. Failure is not our option!
Watch the Fox 29 story unveil a twisted story while they create a "trashy situation."
OTHER RELATED ARTICLES:
Trash Cans Painted with Art – Phila.gov
Trash Cans to Provide Curb Appeal – SW Globe Times
50 Pretty New Trash Cans Land on Philly Streets